Viime lauantaina maisema muuttui hurjasti, kun vihdoinkin saimme lunta tänne pääkaupunkiseudullekin! Paljoa sitä ei satanut, mutta toivottavasti saamme pian lisää. Ja ainakin toistaiseksi hyvältä näyttää, mikäli sääennusteita on yhtään uskominen. Talvi kun ei ole yhtään mitään ilman kunnon pakkasia ja kinoksia!
Lomaviikko hurahti ohi nopsaan, vaikka mitään sen erityisempää ei tullutkaan tehtyä. Alkuviikosta olin pitkästä aikaa visiitillä kotona vanhempien luona, ja loppuviikko kuluikin aika pitkälti poikaystävän kainalossa Big bang theorya tuijottaen. Aaton sentään vietimme poikaystävän vanhemmilla syöden ja rentoutuen. Vaikken joulusta muuten välitäkään, niin kyllä muutaman päivän vapaat kelpaavat, samoin kuin jouluruoka, jota tuli taas kerran syötyä enemmän kuin tarpeeksi..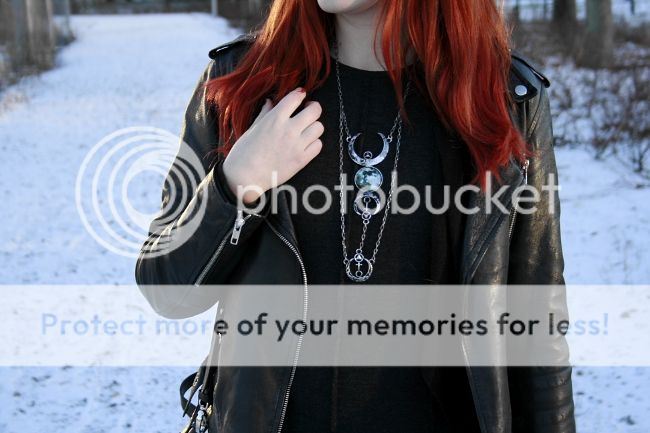 Löysin tämän mekon muutama kuukausi sitten Zarasta. Pitkät helmat ovat selvästi tehneet paluun kaappiini, enkä aio niistä kyllä erota hetkeen. Tässä mekossa on vielä pitkät hihatkin, joten se sopii vallan mainiosti vuodenaikaan. Villaa se ei ole, mutta varsin lämmin kuitenkin. Ja uskomatonta, se ei ole edes musta! Tummanharmaa toki, mutta sekin on jo suurta vaihtelua kaapissa vallitsevaan "värimaailmaan".
Miten teidän joulunne sujui? :)
On last Saturday we finally got some snow here! I hope so much that the snow is going to last, and hopefully there's coming a lot more too! From my point of view, there's no winter without a lot of snow and frost.
Holiday week passed quickly, even though I didn't do anything special. I stayed couple of days in my childhood home, visiting my parents, and the rest of the week I mostly watched Big bang theory from the beginning with my boyfriend, and eat. A lot. I don't care about Christmas that much, but it still nice to have couple days off from work. And did I mention the food? Yes, I love that too.
The dress is new, I found it from Zara. I guess that the long hems are here to stay. This dress has also long sleeves, so it's ideal for this season. It's not wool though, but still quite warm. And it's not black, can you believe it! Yes, it's dark grey, but if you look into my closet, you'll find it quite colorful..
How did you spend your holidays? :)