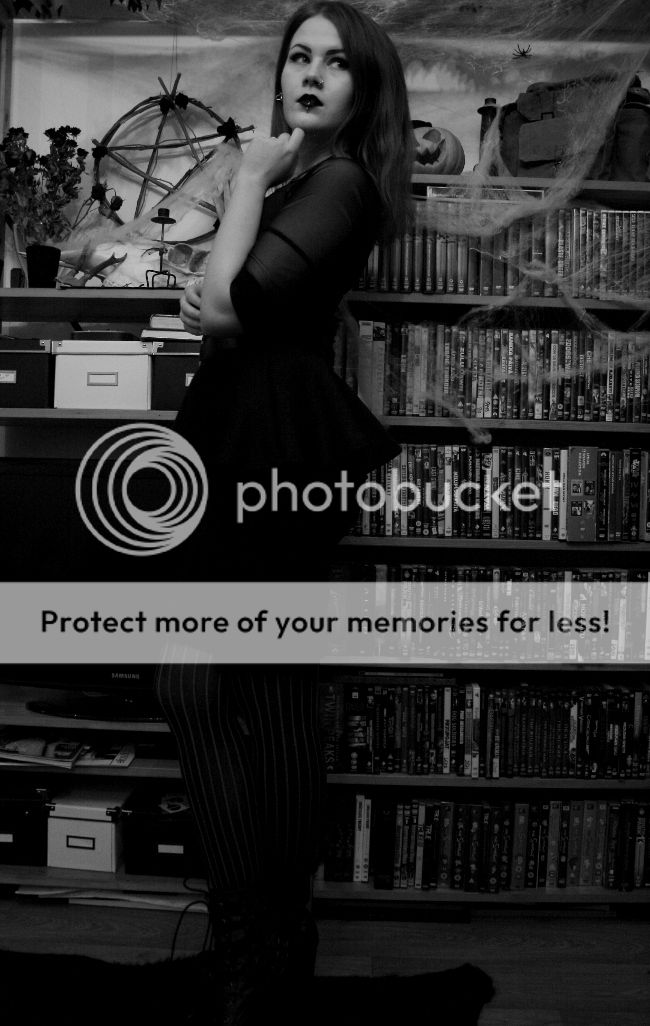 Viime viikonloppu sujui oikein rattoisasti elokuvien parissa, kun Night Visions-elokuvafestarit tarjosivat jälleen kerran tuntitolkulla katsottavaa valkokankaalta. Kävimme poikaystävän kanssa katsomassa pari elokuvaa sekä perjantaina, että lauantaina. Joskus aion kyllä vielä selvitä koko yön kestävästä maratonista, mutta vielä ei ollut sen aika..
Tänä vuonna mukana oli pari vanhempaa Christopher Leen elokuvaa, jotka olivat (julkaisuvuodesta huolimatta) täysin uusia minulle. Sekä Horror of Dracula, että The Wicker Man olivat oikein hyviä ja suosittelen ehdottomasti ne vilkaisemaan, mikäli ne ovat syystä tai toisesta jääneet näkemättä. Lauantain viimeisenä elokuvana oli uusiseelantilainen Deathgasm, jolta osasinkin odottaa melkoisen paljon naurunpyrähdyksiä. Se ei vetänyt vertoja viime vuonna esitetylle What we do in the shadows elokuvalle (joka on jokaisen vampyyrifanin must see-leffa) mutta oli silti oikein hauska ja lunasti kyllä kaikki odotukset.
Monet tuntuvat repivän Halloween koristeet pois heti juhlan mennessä ohi, mutta itse en aio koskea koristeisiin vielä hetkeen. Ja täytyy myöntää, että kurpitsankin kaiversimme vasta viime viikolla, sillä unohdimme sen kokonaan aiemmin.. Onneksi Halloween koristeet eivät ole kovin muusta sisustuksesta poikkeavia, joten tuskin kukaan edes ihmettelisi vaikka ne olisivat paikoillaan läpi vuoden. Yritin itseasiassa etsiä vielä kaupoista ylijääneitä koristeita, kenties alennuslapulla varustettuna, mutta ei löytynyt. Ne varmaan odottavat sitten varastossa ensi vuotta!
♥

Peplum shirt- Second hand (boohoo.com)

♥

Skirt- H&M

♥

Boots- Jeffrey Campbell

♥

Infinity Belt- ShopFoxAndOwl

♥

Tights- Lindex

♥

Necklace- Rogue by Tiina Ulkuniemi
I spent almost the entire weekend with movies, because the Night Visions movie festival offered lots of good films to see on the big screen. We watched couple of films on Friday and on Saturday. There is also a movie marathon every year, which lasts from Saturday night to Sunday morning. I haven't yet experienced that, but maybe some day I will!
Horror of Dracula and The Wicker Man were both new films for me, but I liked them very much. Also the last movie we saw, Deathgasm, was hilarious, in a good way. It wasn't as good as the What we do in the shadows (if you like vampires, this is a must see film for you!) which we watched last year, but still very entertaining.
Halloween might be over, but I refuse to throw all the decoration away! And it's sad to see that lot of people do it right in the next day. I'm going to keep the bats and spiderweb, at least for now, because they don't differ so much from our usual decoration.