Koko vuosi sitä odotettiin, ja siltikin se yllätti jälleen, nimittäin Halloween. Pääsin osallistumaan ensimmäistä kertaa kunnollisiin halloween pippaloihin, ja vain viikkoja ennen juhlia tajusin etten ole ostanut, saati tehnyt mitään pukuni eteen. Onneksi tuo kaappi on kuitenkin pullollaan vaikka ja mitä, ja sainkin lopulta kyhättyä asun kasaan ilman sen kummempia kriisejä. :)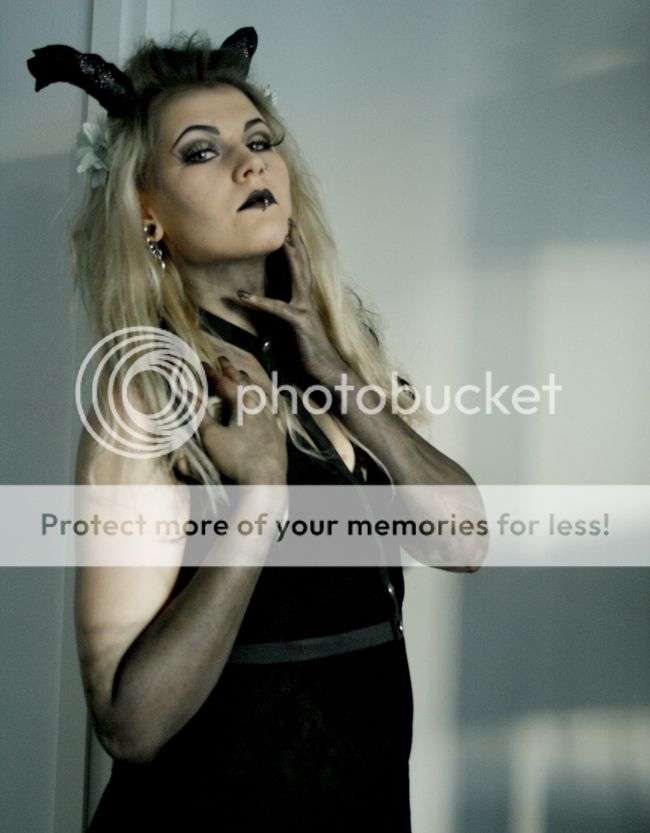 Lähdin luomaan lookin täysin noiden sarvien pohjalta, jotka olen hankkinut jo aiemmin
Karoliinalta
. Ideana oli olla jonkinlainen mainadi, mutta jouduin improvisoimaan aika paljon, sillä en tosiaan ehtinyt hankkia mitään muuta paitsi tuon mustan ihomaalin (joka oli muuten suhteellisen tuskaista saada pois!). Mustan maximekon ostin kesällä Monkin alennusmyynneistä, harnessin olen tehnyt itse.
Loppuun vielä yhteiskuva ihanan
Jeaneten
kanssa, joka juhlat järjesti! Ilta oli oikein onnistunut, enkä malta odottaa ensi vuoden juhlia! :)
Here's couple of pictures of my halloween look. I realized way too late that the parties is just around the corner, and I didn't have the time to buy anything else but the black paint (which was surprisingly hard to get off!) But luckily I have so much stuff in my closets, and I managed to get something togerher. My inspiration was maenad, even though I had to improvise quite a lot.
The horns are made by Karoliina, maxidress is from Monki and the harness is made by me.
Lovely Jeanette organized these parties, and I had so much fun! I can't wait for the next years party! :)