Teen tällä viikolla töissä iltavuoroa, ja työpäiväni alkaa vasta 12.15. Aamulla onkin siis paljon aikaa touhuta kaikenlaista, jos vain jaksaa herätä ajoissa. Eilen ehdin siivoilla kotona, ja kokeilla vähän jotain uutta hiuksille!
Tilasin ebaysta noin kuukauden päivät sitten paljon puhuttuja hiusliituja, mutta en ollut ehtinyt (muistanut) kokeilla niitä kuin vasta eilen. Väriä liidusta tarttui yllättävän hyvin, vaikkakin violetti olikin selkeästi enemmän pinkki kuin violetti. Lopputulos ei ollut ihan paras mahdollinen, sillä pidennykseni ovat jo vähän huonokuntoisemmat kuin oma tukkani, joten hius meni hiukan koppuraiseksi. Mutta ehkä ensi kerralla lopputulos on parempi.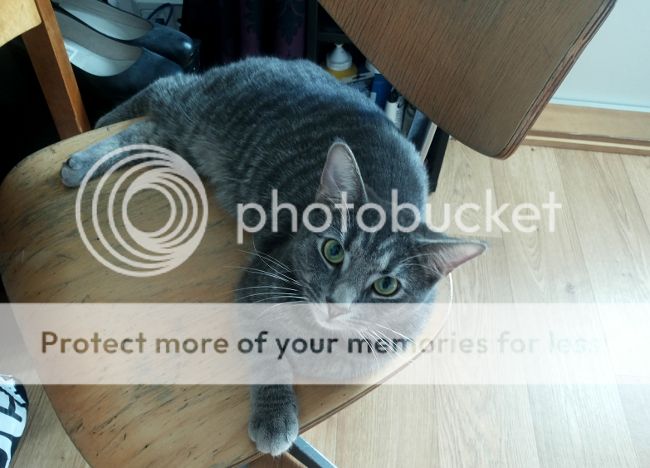 Music from yesterday! Love the whole Timewave zero album from Grendel, but my favourites songs are Deep Waters, Out of my Mind and Neon City Nights.
Eilinenkin ilma vaikutti jo melko kesäiseltä, ja uskalsin laittaa shortsit ensimmäistä kertaa tänä vuonna. Ihan niin lämmin siellä ei kuitenkaan ollut kuin mitä olin ajatellut, mutta kyllä noilla onneksi tarkeni ihan hyvin.
Pääsin töistä 20.15 ja ulkona paistoi vieläkin aurinko. :) Kotiin päästyäni käperryin sohvaan kissojen ja kuuman kaakaon kera katsomaan televisiota.
Yesterday my work started 12.15, so I had plenty of time to do some stuff at home. I clean up a little bit and try something new for my hair!
I ordered these hair chalks from ebay about a month ago, but yesterday was the first time I tested them. The result was not the best one, but maybe next time is better.
The weather seemed to be as hot as on Monday and I decided to wear shorts first time this year. Well, the weather wasn't as hot as I had thought, but luckily I survived.
I got off from work 20.15 and the sun was still shining outside, which was nice. :) When I finally came home, I made myself some hot chocolate and watch television with kitties.